Timeless Damask Designs in Ravishing Red
Product Information
I can't get enough of damask. I've written before about gold-and-green damask accents for the home. But I want more, and not just green, but also the two other primary colors: red and blue.
There is something about damask that's not just about luxury and period style, but also—and perhaps most importantly—timeless elegance. Can you blame me for designing products around this gorgeous pattern?
In this article I'm presenting some exquisite interiors that have been so inspirational, and the library/home office accents I made to (hopefully) quell this helpless crushing 🙂
Radiant in Red Damask
Here's a view of the sumptuous Study (aka West Room) of the McKim Building, part of the Morgan Library and Museum in New York.
It had been renovated in 2010, making the resplendent red silk damask wall covering regain its vibrance. How beautifully the lush, velvet furnishings complement the walls, artwork and low bookshelves. And how perfectly the damask walls hold the whole room together, giving it a rich yet comfortable feel.
Inspired by Red Damask
Here are some products I designed using a gorgeous, antique red-and-gold damask fabric. I created a bejeweled stylized pomegranate, the apple of love during medieval times, for adding your initials or names.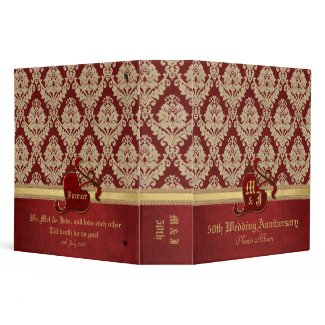 Monogrammed Antique Damask Gold Red Pomegranate 3 Ring Binder
by
BCMonogramMe
Check out Monogrammed Binders online at
zazzle
This 3-Ring binder will look lovely in a library. I think the deep red theme will work perfectly as a Ruby or 40th Wedding Anniversary commemorative album. It includes full-bleed, photo-quality printing on the front, back and spine. There are two different ring types to choose from: holds 500 pages with EZ-Turn™ Rings or 540 pages with 1 Touch™ EZD™ Rings. Designed for 8.5″ x 11″ sized paper.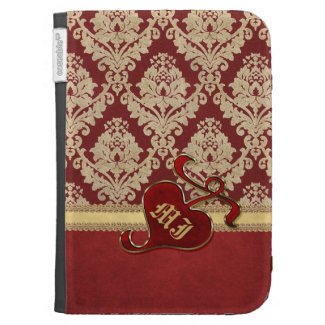 Monogrammed Antique Damask Gold Red Pomegranate Kindle 3G Covers
by
BCMonogramMe
Shop for other
Kindle Cases
at zazzle.com
Speaking of books, while I love libraries there is something very convenient and practical about Kindle books. They're easy to carry and there are so many classic Must Read books available for free download. This Kindle case features the highest quality printing and hand sewn American craftsmanship, for a folio style case ready to be judged by its cover! 🙂 It's handmade with recycled materials in Brooklyn, New York.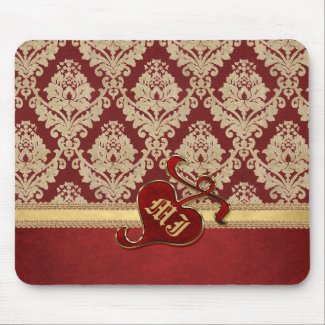 Monogrammed Antique Damask Gold Red Pomegranate Mouse Pads
by
BCMonogramMe
Create unique
photo mousepads
on zazzle.
Most home libraries and home offices these days have a computer or two for getting work done. This mousepad has quality, full-color printing. The durable cloth cover is dust and stain resistant, and has a non-slip backing.
Monogrammed Antique Damask Gold Red Pomegranate Note Books
by
BCMonogramMe
Browse other
Monogram Notebooks
While we all love tapping on keyboards nothing beats the feel of hand-writing. This customizable notebook is a great way to show off your personal style. I think it makes a great journal! It has 80 black & white lined pages and lay flat spiral binding. The cover printed in vibrant, sharp color.
Sharing the Beauty of Damask
I hope you enjoyed the rich textures and deep colors of these damask designs. Add some elegant, old-fashioned charm to your day! These items are fully customizable and thus make the perfect gift for your friend or family that appreciates classic motifs. Click here for more damask products, from laptop bags to pillows to iPhone cases and many more. Check out the other brilliant hues, too.
More Lovely Red Damask Finds
Other lovely finds for the library or home office:
I'm loving this round rug with a red damask pattern. When you can't cover your entire wall with red damask an accent rug provides just the right touch of elegance.
An easy way to update the look of a room would be to change the upholstery, and nothing could be easier than a new slipcover. This berry red sofa cover looks so rich and classy, yet machine-washable and durable. Just the right fit for a high-traffic area.
Modern Takes
It doesn't have to be gold-on-red or red-on-red. These modern interpretations mix white and silver with red for a coolly modern look.
A classic armchair in silver, upholstered in a red-and-white damask pattern—how lovely! This would make a great accent to any room.
Finally, we round up this article on red damask with a beautiful raspberry-red and silver-grey wallpaper. We can't all have silk damask walls, but this embossed vinyl wallpaper imitates the look of fabric, making an elegant surface without sacrificing durability and practicality.
Decorating with Red Damask
I rounded up some decorating inspiration for adding sophistication to your home with ravishing red damask:
Happy decorating!
You just finished reading
Timeless Damask Designs in Ravishing Red
. Please consider leaving a comment! This post is from the interior furnishings website,
Beverly Claire Interiors
. If you are not currently reading this via
interiors.beverlyclaire.com
, then this post may have been stolen or scraped from the
Beverly Claire Interiors
site. Republishing this article in full or in part is a violation of Copyright Law (c)2010-2018, All rights reserved.
We Would Love to Hear from You!
So, what do you think? Do you like this style? Do you have similar ideas or products to recommend? Please share your thoughts and opinions in the comments section below.