Winter Olympics 2014: Rainbow Spectrum and Gold Medal
Product Information
Did you enjoy watching the opening ceremony of the 2014 Winter Olympics in Sochi? I stayed up from 1 to 4 AM to watch the ceremony broadcast live on Japanese television. It was amazing, as expected. I particularly enjoyed the ballet skit. Of course Russia would give us an incredibly gorgeous Prima Ballerina! I expected nothing less.
I know there are better ways to spend 51 billion dollars, but as a visual artist I'm a sucker for spectacle and pageantry. Russia did not disappoint. I loved a lot of things, from the ornate head dress of the beautiful ladies in white who lead each team (talk about futuristic fashion!), to the grand fireworks display at the end of the ceremony. Perhaps my only disappointment was that there was no live musical performance by a Russian virtuoso pianist or violinist. I mean, why not? Russia has an abundance of the world's finest classical musicians!
Many of us, I guess, will be glued to the television for the next couple of weeks, rooting for our favorite athletes. I only wish everyone could win a medal!
In celebration of the winter games, I came up with an Olympic-inspired design.
Enjoy all colors of the rainbow in this spectrum look.
Add your initial and name on the gold medal to personalize and make it your own.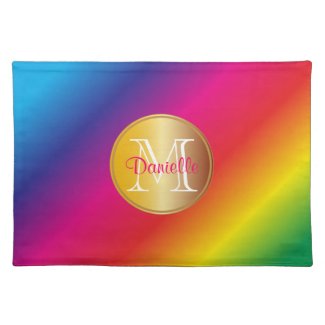 Monogram Vivid Colorful Rainbow Spectrum Gradation Place Mat
by
BCMonogramMe
Shop for another
place mat
.
Makes a wonderful gift to anyone enjoying the games, or needing a dose of color and cheer.
Click here to view more gifts with this colorful, Olympic-inspired design.
There is no such thing as a darts event in the Winter Olympics, but here's to shooting using your arm and darts. Featuring vibrant color printing, this regulation size dart board is easily customized with your name and initial for a great gift. Regulation size board is 18" in diameter and 1" thick. It includes 6 brass darts (3 American flag dart flights and 3 UK dart flights), and finished with aluminum frame and hanging hook. The perfect addition to your game room.
Protect your iPad Air with a customizable Barely There Case-Mate case. This form-fitting case covers the back and corners of your iPad Air with an impact resistant, flexible plastic shell, while still providing access to all ports and buttons.
Great to chew on some jelly beans while watching the Olympics!
The perfect little trinket this Olympic year.
Bring the Olympic fever to work with this customizable MacBook sleeve.
Speaking of work, this oval mousepad supports your wrist while you surf the Olympic websites looking for videos to watch 😉 Featuring an ergonomic gel-pad wrist support and non-skid black plastic base, this mousepad will look great with your name and initial.
And finally, here's my favorite gift carrying this Olympic-inspired rainbow and gold design. It does look like a gold medal, don't you think? 🙂
Click here to view more gifts to celebrate the Games.
Wishing the athletes all the best results (and injury-free play) this Winter Olympics!
You just finished reading
Winter Olympics 2014: Rainbow Spectrum and Gold Medal
. Please consider leaving a comment! This post is from the interior furnishings website,
Beverly Claire Interiors
. If you are not currently reading this via
interiors.beverlyclaire.com
, then this post may have been stolen or scraped from the
Beverly Claire Interiors
site. Republishing this article in full or in part is a violation of Copyright Law (c)2010-2018, All rights reserved.
We Would Love to Hear from You!
So, what do you think? Do you like this style? Do you have similar ideas or products to recommend? Please share your thoughts and opinions in the comments section below.